If you follow basketball, you've likely heard of Andre Tyler Iguodala. And if you're also from Springfield, you likely couldn't be more proud.
Those of you who don't follow basketball might need a little background. Iguodala grew up in central Illinois, where he excelled on his high school basketball team. In college, his talent proved so impressive that in 2004 he was drafted by the Philadelphia 76ers and thrust into the starting lineup immediately during his rookie season. In fact, he was the only 76er to play and start all 82 regular season games plus 5 playoff games. In 2012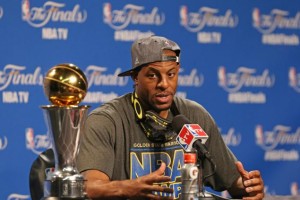 he was dealt to the Denver Nuggets, and as of 2013 he's playing out a four-year, $48 million deal with the Golden State Warriors.
This year, Iguodala was the recipient of the coveted NBA Finals Most Valuable Player Award. In honor of this, Iguodala's hometown paper in Springfield, the State Journal Register, ran a special broadsheet section to congratulate him. Our client, Memorial Health System, is based in Springfield, and we decided to run an ad in this special section.
Most marketers choose to run existing ad campaigns if they decide to run in newspaper special sections. Companies often base the value of an ad on the cost of the media. They think it makes little sense to spend money on creating a good, targeted ad when the ad is going in a charity program or a booklet that costs next to nothing. But even a small ad is branding, sending messages about the company—so even a small ad had better be up to the brand's standards. If an ad doesn't send a strong, branded message, then the company shouldn't buy the space to run the message in the first place.
We saw this "just run an existing ad" approach throughout the Iguodala special section from other advertisers, who chose to tout their own products and services. But if a client is game, we like to approach special sections or programs differently. In special sections and programs, it is very easy to stand out above the crowd with a different, targeted ad. Readers are totally blind to ads that run when the ad is just any old ad, there to fill up space. But if you know the material the ad will run with, why not play with it? Why not work it into the creative? Why not speak right to the heart of the audience of the publication?
By tying Iguodala's goals and dreams to the choices everyone makes, we were able to use the story of the MVP award and work it into Memorial's tagline to "Choose Well." In the end. it's the kind of message only a true leader can deliver. At its heart, it's a branded message that readers will notice and remember. It is noncommercial, and it demands nothing in return. We knew that when delivered in the appropriate vehicle at the appropriate time, that's exactly the kind of message that sticks in people's minds. And when the paper came out, the client loved the results, noting that the ad was far superior to anything else that ran—just like we said it would be.
Do you want us to help you make the most of your marketing? Contact us today.