We recently launched a Multisite Creator for Advocate Physician Group. What exactly is a Multisite Creator? The basic answer—it is a simple way to build multiple websites. Since this system isn't common, we'll get into the rest of the story. Advocate Physician Group is comprised of some of the physicians and practices associated with the Advocate Hospital system. Physicians and Practices in the group were required to have a website presence, but websites can be time-consuming and expensive to create and to keep up-to-date. The group wanted to make this a simple, fast, inexpensive process for their members. They wanted to offer an easy way for each practice to build and maintain a stylish site that presented the necessary information for the practice.
We considered the request and all of the potential barriers. We considered the value of what a master system could offer to the members—one place to build separate user-accessible sites, one place to provide updates (which can be expensive and time consuming if they have to be done to sites individually). With all of this in mind, we built a Multisite Creator—a single system that allows us to easily build sites for the various practices.
Once the system was built, Advocate Physician Group offered our Multisite Creator to their physicians and practices at a fraction of the cost of what they would pay elsewhere. The physicians simply have to contact us, select either a single-page or multipage site, choose between two designs, and provide us the information to include on the website. Once we build their practice site using the Multisite Creator, the practice has access to the admin area to make any updates or changes to site copy or content, which saves them the cost to make changes and makes it easy to keep their sites current with accurate information.
The system provides the following benefits:
WordPress-based. Building the system in WordPress allows several benefits—it is inexpensive to build and user-friendly and intuitive to admins.
Easy to update. When technology on a site needs to be updated (for security reasons or otherwise), it can be time consuming and thus expensive. Because we use one install of WordPress to house all of the sites, it is inexpensive when it comes time to update WordPress—we simply update the system and it updates all of the sites we have created.
Inexpensive to create. Because the system is already in place, the sites for each practice are inexpensive compared to building a site from scratch.
Simple to provide content. It can seem daunting to consider starting a website from scratch. But since our single and multipage sites are pre-designed, we just let the physician know what content is needed and they fill in the blanks.
Stylish, responsive design. The design options are theme-based, which keeps the cost down, and they are nice to look at. They are responsive as well, so they will look nice and work well on any device.
Check out one physician's version of the site: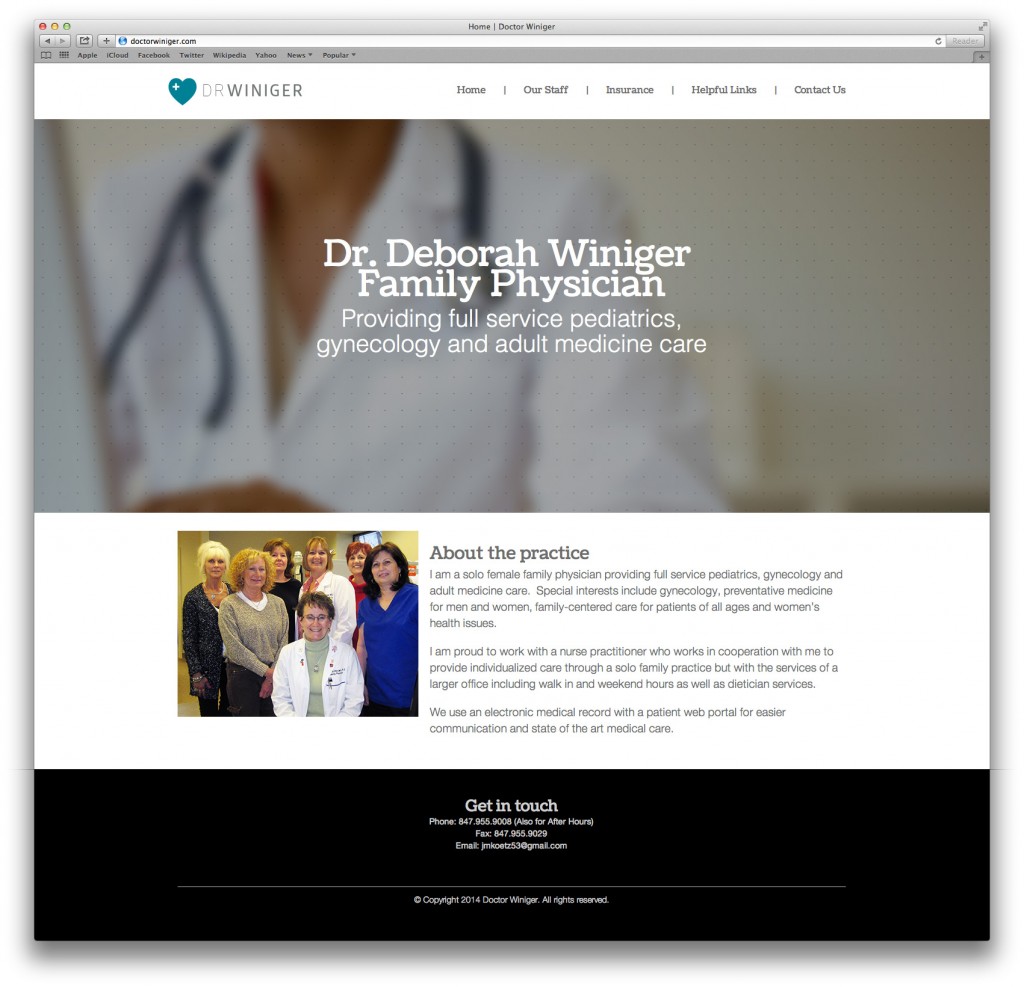 Do you have an interesting website project? Contact us to find out how we can help.