Northwestern Medicine is the latest in a line of healthcare providers to launch their own version of the ICE App. This app puts your hospital or healthcare service logo on a person's home screen, along with an in-case-of-emergency phone number, so first responders can see who to contact immediately when they pick up your phone. Once users download the app and set up the lock screen, your hospital or organization's logo is the first thing the users see when they turn on their phones.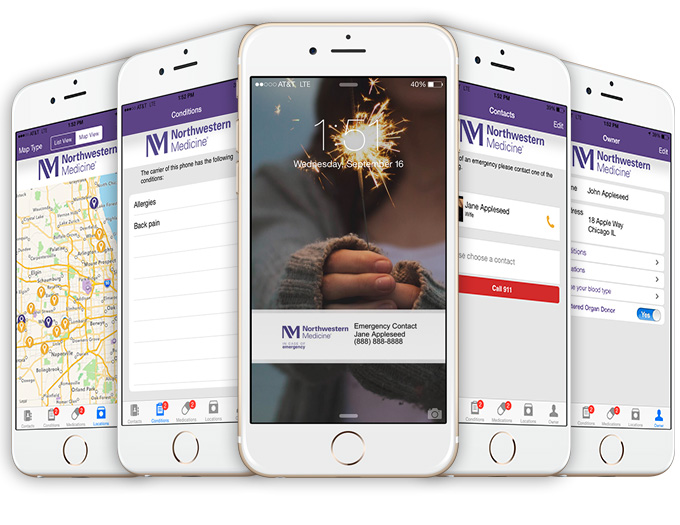 Check out the Northwestern Medicine version of the app. The app now runs on iOS 8 or later, compatible with the iPhone, iPad, and iPod touch.
First Responders, such as paramedics, EMTs, firefighters and police look to your cell phone for emergency contact information in order to obtain important medical information. While many people have an ICE contact listed in their contacts, it is often inaccessible because the phone is locked. With the ICE App, your emergency contact info is listed as soon as your phone is accessed on your home screen. The branded app puts your organization's logo next to a contact phone number on the first screen.
The app also can be personalized to include the following medical information:
Blood type
Current medications
Medication allergies
Health conditions
Organ donor registration designation
A map to the nearest Northwestern Medicine emergency departments, convenient care and immediate care facilities based on your current location
Northwestern Medicine is the collaboration between Northwestern Memorial HealthCare and Northwestern University Feinberg School of Medicine. In 2014, the Northwestern Memorial HealthCare system served more than 600,000 patients at its nearly 70 diagnostic and ambulatory sites across Chicago including four hospitals; Northwestern Memorial Hospital in Chicago, Northwestern Medicine Central DuPage Hospital in Winfield, Northwestern Medicine Lake Forest Hospital in Lake Forest and Northwestern Medicine Delnor Hospital in Geneva. Northwestern University Feinberg School of Medicine has a national reputation for excellence and long history of collaborative, interdisciplinary medical education and research. In 2015, it was ranked 19th among the nation's top research-intensive schools of medicine by U.S. News & World Report, and in 2014 ranked 21st in National Institutes of Health funding.
Thanks for joining the ICE App team, Northwestern Medicine!
Learn more about branding the ICE App with your healthcare organization's logo.